Art & Fiber-Craft Exhibition in the Penicuik Community Art Association / Gallery Café in Penicuik 09. April – 05. May 2018, Monday-Saturday 10am-4pm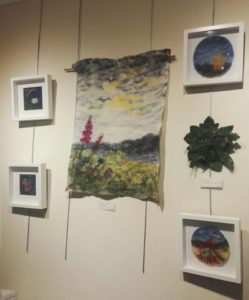 The April Art & Craft Exhibition showing elements of my creative journey and some works of friends, members of the Camphill and the Galgael intentional Communities in Germany and Scotland. The intention of the artists is journeying towards wholeness. Their journey can be seen as a clarion call for the world today: art and craft are essential for becoming and being whole.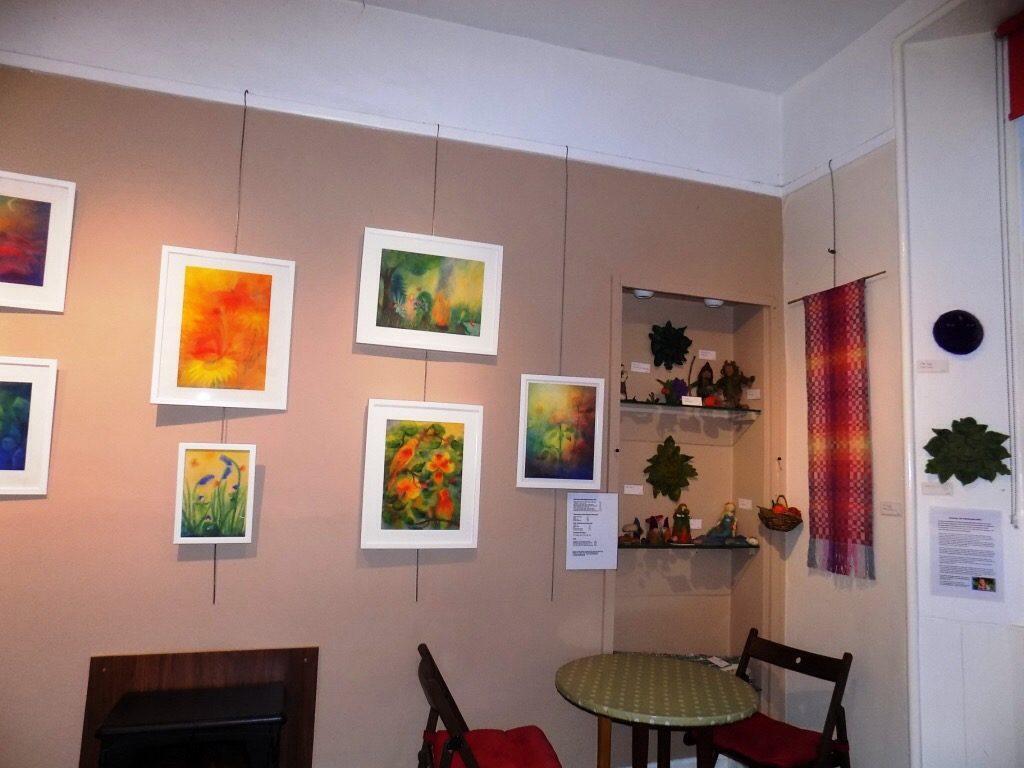 My journey as hand weaver, art therapist, painter and felter was and is characterised by my interest in supporting people from many ways of life to develop their creativity. Creativity to express ourselves,
to transform, to overcome and to encounter ourselves in the process and in the outcome: our work. Every creative process is a mosaic on the journey for wholeness sake.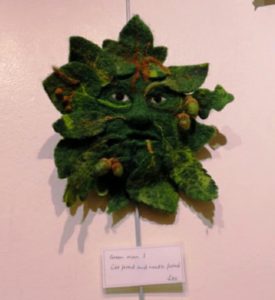 Green man, felted
In recent years I have further developed my felting skills and enjoy sharing my expertise in felt workshops in Glasgow, Scotland and abroad.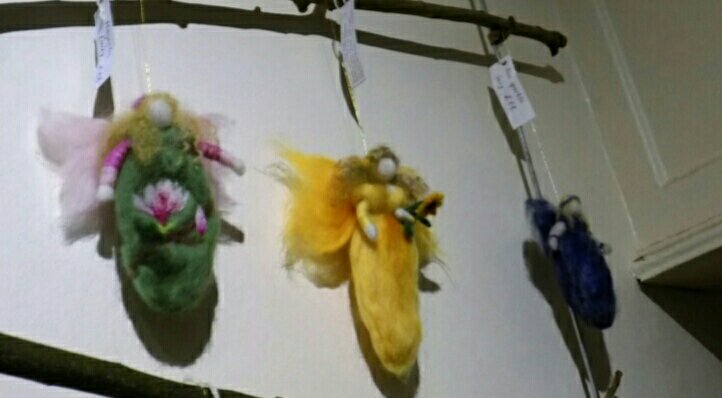 Laryna's felted flower fairies
I prefer to use natural and sustainable material and love being in nature, where I receive inspiration for my art and craft work. Since very recently I even use what I pick in nature to create nature art.
The rag rugs in this exhibition were made in GalGael. They are hand woven from fabric, torn into straps and woven on an upright loom by volunteers, who enjoyed learning a new skill taught by me.
As part of my journey I also show the work of two tapestry makers: Edith and Wendelin, with whom I have worked as a manager of a weaving workshop in Germany.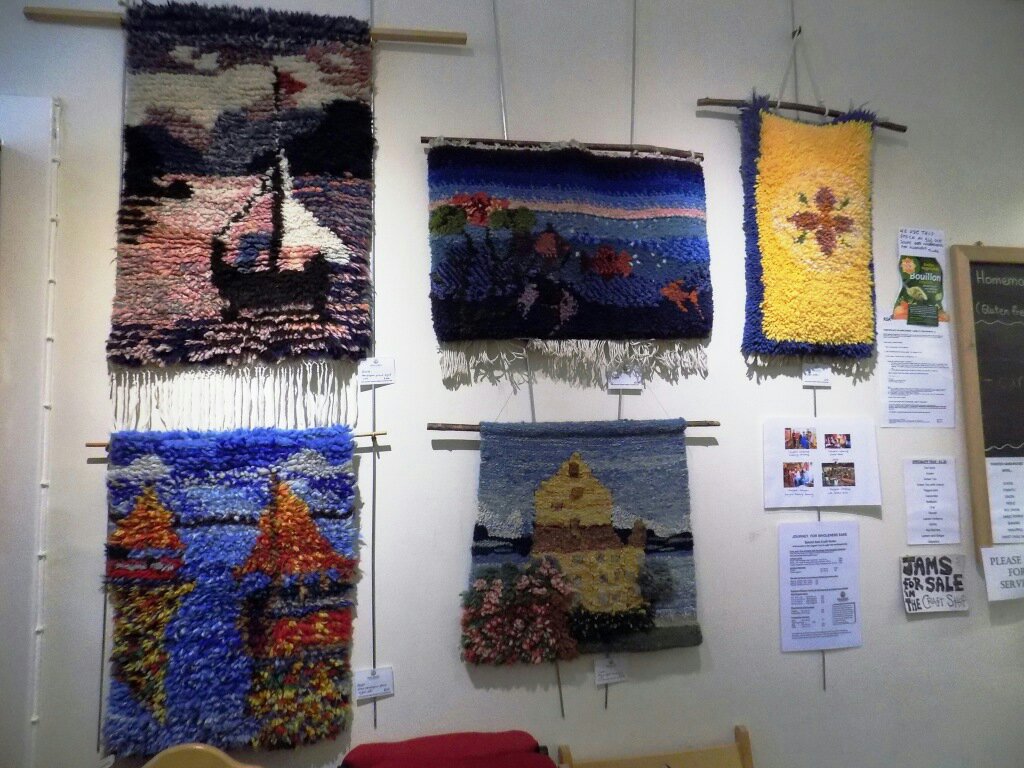 Knotted and woven wall hangings made by two people I worked with during my journey
Edith and Wendelin live in the Lehenhof, a Camphill Village community at the Lake of Constance. Their pride and joy is to be able to freestyle knot and weave these exquisite artistic tapestries, designing their own patterns. It is their job, their work.
Hope you're enjoying this exhibition as a journey for wholeness sake. It's my pleasure to highlight that the proceeds from the wood work, the rag rugs and the knotted wall hangings in this exhibition will go towards a much needed new boiler for GalGael.
I am excited to have been invited to exhibit in the Gallery Café of the Penicuik Community Arts Association! Crafting in Penicuik has been a wonderful part of my journey, since the From Fibre to Fabric weekend in Penicuik House in autumn 2010, which then was instrumental for a local group of families to create the much loved weekly free crafting session in the town hall: Making Space Penicuik! Which still carries on once a month as 'Crafts 4 All' with Jenni!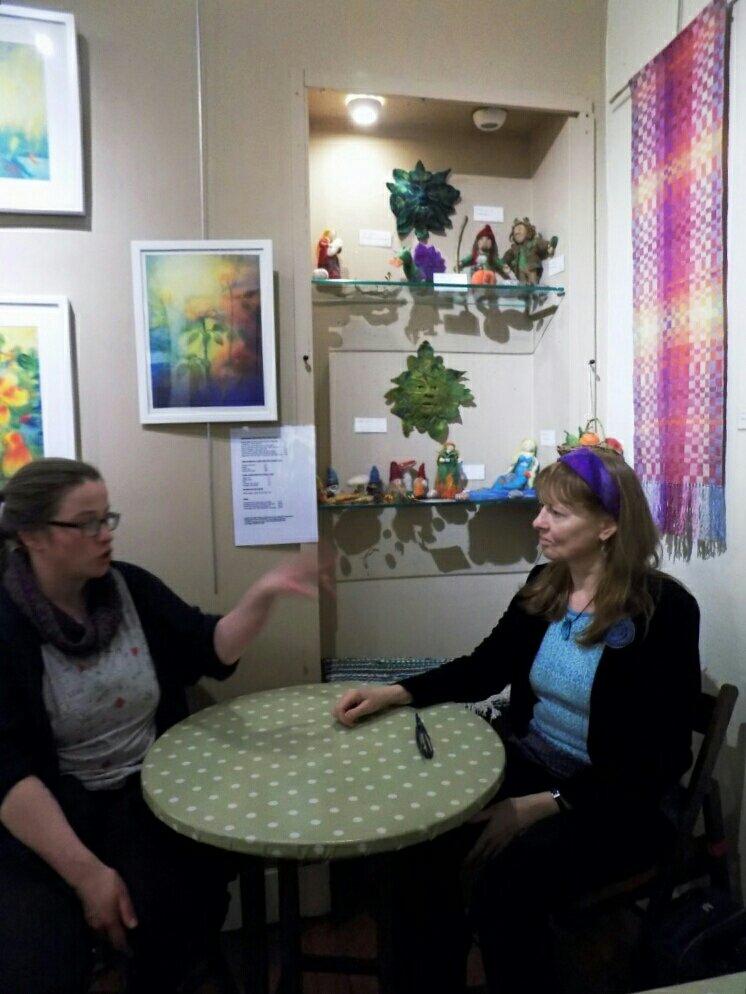 Enjoy this video with Jenni interviewing me about the exhibition.
Ever onward: participation in arts and crafts are key to wellbeing. And it unleashes many creative professional opportunity surprises.