Demonstrating and teaching hand spinning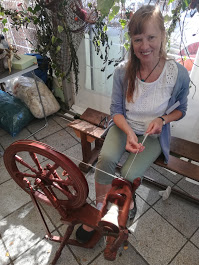 At different occasions I have recently demonstrated the art and craft of hand spinning sheep's wool with drop spindle and spinning wheel. I also shared my skills and experience and taught a few people at the Clydebuilt Festival 2019 and a group of teachers in Paisley this ancient and traditional textile craft.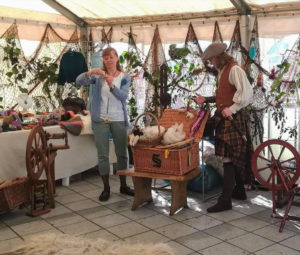 For thousand of years in many areas of this world animal and plant fibres have been spun by hand, using a simple tool: a drop spindle. Later about 1000bc the more technical advanced spinning wheel was invented for hand spinning. I have various drop spindles and a spinning wheel, which I all enjoy to demonstrate and teach hand spinning with and of course to spinn wool for my own use. Some drop spindles have the whorl on top of the stick others at the bottom end. You would need to try both kinds to find out which one works best for you.
Spinning workshop as CPD for teachers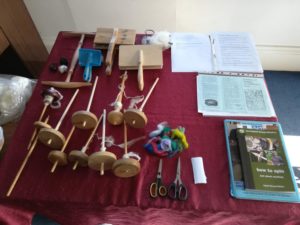 Last week I was facilitating a hand spinning workshop for a CPD for primary and secondary school teachers, using various drop spindles and demonstrating spinning on my spinning wheel. They also learned about different kinds of sheep's wool like Shetland wool, Blue faced Leicester, Hebridean, Jacobs wool and a few more. Learning about teasing the wool and using hand carders to card the wool fibres was part of the preparation before spinning the fibres.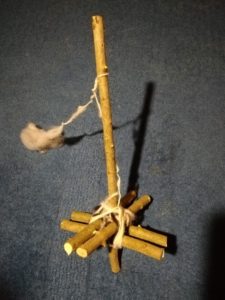 Thinking of the pupils, who might then learn hand spinning I have made a very simple drop spindle:
I used four straight wooden sticks of similar length and one longer stick about three times the length of the four shorter sticks. I then used a woolen string to tie the two pairs of sticks to the longer stick. See also the photo on the right. I really love this simple and easy to make tool and additionally it has been made from natural sustainable material. I was very surprised how well this hand spindle works for spinning.
Now I wonder whether the teachers will get enthusiastic about making a drop spindle with their pupils?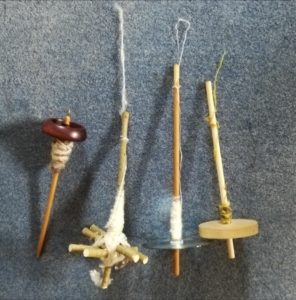 An old CD attached to a stick with some blu tack can also do the job. I've made one and it definitely works, even though it is quite light weight and doesn't twirl as long as the heavier drop spindles with a wooden whorl.
My first drop spindle
I am remembering when I was a teenager of 15 years I had made my very first wooden drop spindle in a holiday summer camp, and I learned hand spinning with this self made tool. I later learned spinning with a spinning wheel. During my apprenticeship to become a hand weaver in my early twenties I did a lot of hand spinning on spinning wheels and also taught many volunteers in hand spinning sheep's wool and other fibres like silk. I also tried cotton fibres, which I found more difficult to spin, as the fibres are very short compared to sheep's wool.
When you have learned hand spinning and are managing the process and have found your rhythm you will experience the almost meditative and relaxing state you can enjoy while creating a thread from fibre.
All my life I love and enjoy making things and being creative. That could be in the field of craft, art and also in my shamanic and holistic healing practice.
If you have any questions about hand spinning or the tools mentioned or you would like to learn hand spinning with drop spindle or spinning wheel please
contact me