Needle felting Dwarfs, Gnomes and Little People
Creating needle felted dwarfs, gnomes, little people or fairy folk is one of my favourite craft activities, which I also teach in felt workshops.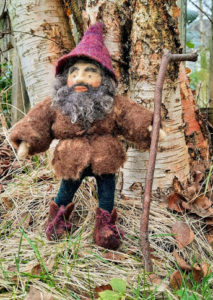 It is an exciting and magical experience to create a certain character, which unfolds its unique personality during the felt process.
The felt needle pokes it's tip into the wool and I manipulate the wool fibres, push and pull to create the shape in 2d or 3d, while I observe what I create. The main body with it's specific proportions is needle felted, using core wool. The core wool I'm using consists of coarse, mostly natural whiteish coloured sheep's wool fibres.
After the body has been firmly needle felted I like to start to build up the face.
I have developed my own way to build up the facial features. It is a fascinating process to observe the facial expression appearing. Not all is planned and predictable in this creative process. Colour, size, shape and proportions of the eyes, the nose and the mouth alltogether are building the main features for the expression of the face. Felting the eyes is most exciting. I remember the moment when I created my first needle felted face, a Green Man. Looking into the eyes of my creation was almost scary! The personality appears, becomes almost alive when the eyes are created, with a certain expression.
Little adjustments of the eyes or the shape of the mouth can totally change the expression of the face. Is it a surprised look or a serious look? Is it a big smile or a friendly and shy smile? You can imagine all the varieties of facial expressions. So it is a good idea to study faces and the proportions of faces, of different ages, male or female etc. The size of the body, the proportions of the limbs, the posture all contributes to create a certain character.
When the face has been created I'm looking for wool for the hair, sometimes I add a beard, then I create clothes out of wet felt or combine needle felting and wet felting to make a hat, a jacket, a skirt and even boots or a bag, or whatever feature is needed to complete the character.
Even though I am the one who's shaping the wool fibres with the felt needle, there is always some magic involved.
When I create a personalized felted being I connect with the future recipient of the being during the creative process. The felted creations of various sizes have become companions of many folk in places all over the world. Are you interested to order one or more of my felt creations? You can contact me and please also check out my pages here: Laryna's magical fibre craft creations and Felted dwarfs gnomes and Green Men and Felted fairies, angels a mermaid and more…