Get creative
with colourful and natural wool fibers!
 

Laryna's felt workshops, events and fiber craft demonstrations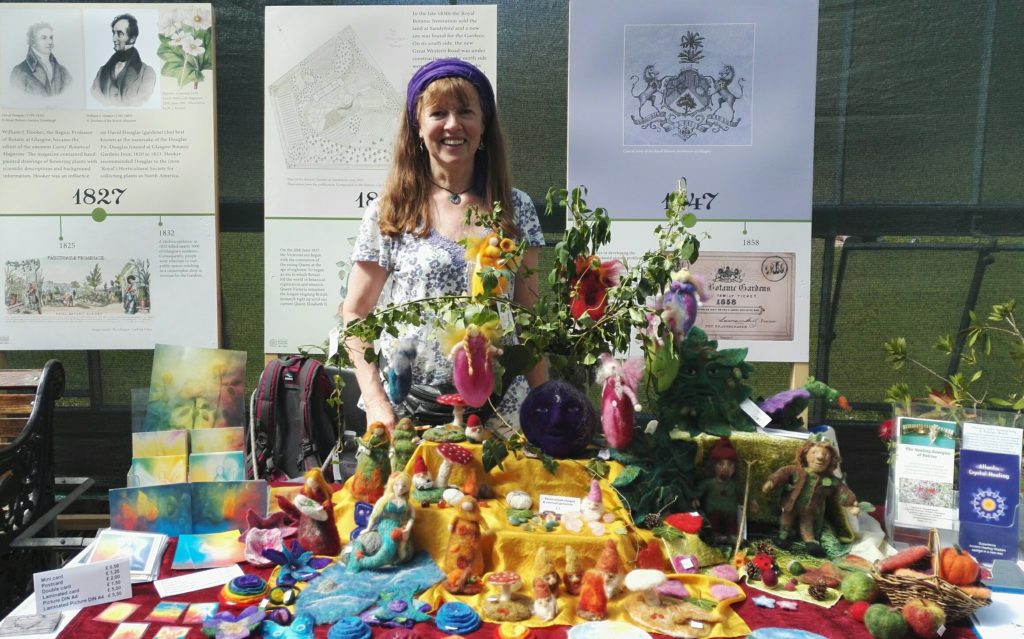 You would like to learn felt making?  Felt making is fun, relaxing, creative and confidence building, plus can give you extra assets for your work and home life. It is a craft for all ages!
Originally trained as a hand weaver and art therapist. I have 28 years of experience teaching individuals and groups of all ages and skill levels in fiber craft and art in workshops, classes, on craft fairs, in community gardens, at open days, at family days, birthday parties, holiday workshops, in home schooling, and in schools. If you want to invite me to run a workshop, or teach felt making or spinning, tailored to your and your groups needs, please  get in touch. I am happy to discuss the requirements for one workshop or a series of sessions.
You can book my service  for events indoors and outdoors. For details of regular workshops and one-off felt workshops in and around Glasgow and beyond, please see below or get in touch.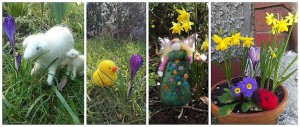 Needle felt workshops on Wednesday morning 10.00 – 11.30am in Glasgow/Bishopbriggs: 01. & 22. & 29. November 2017 etc.
Sessions can be booked separately. Children 7+ years are welcome during school holidays. Read more about these workshops.
Venue: 63 Crowhill Road, G64 1QY, Glasgow/Bishopbriggs
 ~~~~~~~~~~
Create a seamless pouch – half day wet felt workshop on Saturday, 21. October 2017, 1.30-5.00pm
Read more about this great opportunity to learn how to create a seamless felt item. Venue: 63 Crowhill Road, G64 1QY, Glasgow/ Bishopbriggs
~~~~~~~~~~
Needle felt workshop, Saturday, 14. October 2017, 2.00-5pm
Read more about this  needle felt workshops. Venue: 63 Crowhill Road, G64 1QY, Glasgow/Bishopbriggs
~~~~~~~~~~~
Wet felt workshop on Saturday, 09. December 2017, 2.00-4.30pm
Read more about learning how to felt with sheep's wool fibres. Venue: 63 Crowhill Road, G64 1QY, Glasgow/ Bishopbriggs
~~~~~~~~~~~
On Thursday nights the charity GalGael in Ibrox is open for people who would like to do wood craft and wool craft. We share company, skills, music and stories and have a meal by donation. I run monthly felt workshop in GalGael on a Thursday afternoon,  4.15- 5.45pm. The next date is Thursday, 30. November 2017 . Read more
~~~~~~~~~~~~
Meet me and my felted goodies at the
Milngavie Makers Market on Saturday, 02. December 2017, 11.00am – 16.00pm
in the Milngavie Town Hall, Milngavie, Glasgow, G62, 8 Glasgow Road.
~~~~~~~~~~
For hand spinning workshops or one to one tuition please get in touch. 
Elf in the bluebells

What workshop participants have said:
R: "Wonderful experience-very knowledgeable. Would come back for more workshops and highly recommended."
G: "Enjoyed learning the basics of felting. I am hooked
N: "Had a lovely time. Made a picture and a ladybird. "
A: "Had a great time. Great learning experience for my daughter and myself. My daughter made a pond with some ducks and a rabbit and I made a dog."
S

: "Great workshop, really enjoyed it and managed to produce a finished item. Great, thank you," 

H: "Lovely workshop with a welcoming atmosphere. A therapeutic activity. Thanks."
N: "Fantastic relaxing workshop, very warm and welcoming!"
G: "Thanks for yesterday's workshop. I had a great time. Lovely ginger tea and fantastic cake! But most of all your teachings and patience was very much appreciated and that I got to take home my bespoke glasses case was just the added bonus. Many thanks for a great time." 😊