Here's my first video, a slide show with photos of my felted creations like gnomes and dwarfs. Please enjoy the magic!
All of the felted friends in this video have moved away from my house and found a new home in the meantime. Somebody fell in love with one or the other creation and I was always happy to send them to a new home where they are loved.
I very much enjoy to needle felt creations of the natural realm with all my love and skill. I always learn something new as I create, and all creations are unique. Sometimes I create a dwarf or gnome couple, a family or siblings. They come in different sizes and types. I rarely have a very specific plan when I start, mostly a vague idea.  I am able to create a certain character, if A customer commissions one.
Learn needle felting and join one or a series of my workshop
You can learn to needle felt creations of the natural realm in my needle felt workshops, and you can invite me to run a felt workshop organized by yourself e.g. for a birthday party or out door event. To get in touch please contact me.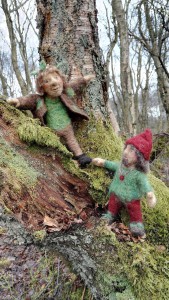 Please share it if you like it!