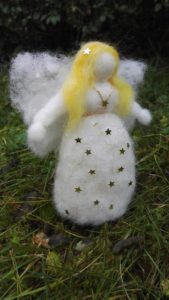 I really enjoy experiencing the different seasons; the way how they unfold, transform and change through the year. The change of colours in nature is an amazing transformation, which I do observe in total awe. I like to share my joy and love for nature and it's wonders and beauties. I share it e.g. in workshops, in fairy healing, in nature healing, in nature mandalas, in my fibre craft creations, in  paintings and even when I'm dancing. 
Seasonal felt creations
As the seasons and the realm of nature beings are very close to my heart it is no wonder that one of my favorite activities is to create seasonal items and ornaments. Even though the seasons occur every year, I still enjoy creating something new, use different colours, shapes and even different materials as you can see below.
A few weeks ago I had some fun by painting these gnome faces on wood. Or do you think they look a bit like Santas?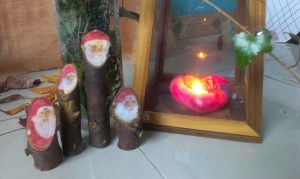 Anyway, here are 4 mini Santas, needle felted from wool fibres. One of them was made by a felt workshop participant.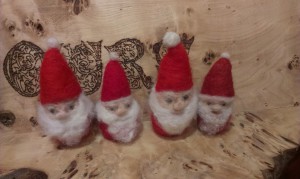 Needle felt workshops
If you wish to learn how to seasonal felt creations using needle felting then I am happy to welcome you at one or a series of felt workshops.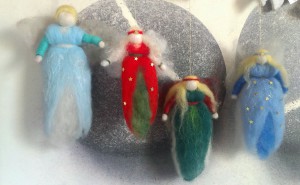 Angels and fairies are always a beautiful decoration and a lovely hand-made gift.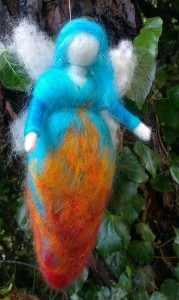 I recently enjoyed creating fairies related to the elements. The first fairy is related to fire and water and the second one is related to earth and water.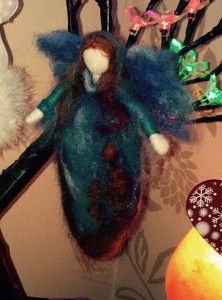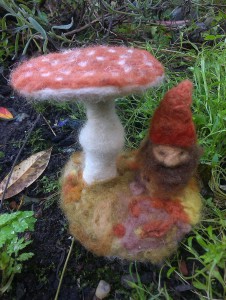 If you like more subtle colour shades, then you may enjoy creations out of plant dyed wool like this toad stool and gnome. This one here has found a new home in Belgium. I love when my creations find new homes and friends in different parts of the world. I am happy to create bespoke items and ornaments either needle felted or wet felted and bring joy and beauty to my customers.  Please, contact me if you  wish to order a customized felted item and I am happy to create one for you, your friend or family.